Admittedly these aren't the best of times for the restaurant industry. The pandemic has put a full stop to dining out in various cities although there are signs of revival. Which makes this the ideal occasion to bring innovation into the industry that will make it easy for patrons and will help build strong brand loyalty for the restaurant. Digital signages for restaurants can go a long way in helping owners achieve just that.
At Easy Signage, one of the first things we tell our restaurant clients is that digital signages are not just reserved for large fast-food chains. Restaurants and cafes of any size can implement digital signages to increase customer satisfaction, and thereby their business. Here are 3 ways in which you can get better reviews for your restaurant through digital signages.
3 Ways to Get Better Restaurant Reviews through Digital Signages
1- Real-time information
This is the simplest of ways in which a restaurant can make it easier for its patrons. Through digital signages, they can let their customers know about the waiting period. If they know how long they have to wait, they are less likely to be impatient. A digital menu is also an effective real-time display of information. If any particular dish is sold out, it's now easy to let the customers know. Similarly, if there's a particular new entrant on the menu, customers can get to know early. These measures help customers make early decisions which will help the operational efficiency of the restaurant.
Every business needs to promote itself and the conventional avenues of marketing can be prohibitively expensive. Digital signages are a cost-effective channel for restaurant promotions that work well primarily because there's a captive audience. Restaurant management can come up with offers on specific dishes, time-bound offers, and introductory promotions on new dishes in their digital menu. All they need are professionally taken photographs of their dishes. They can also cross-sell and up-sell their offerings through digital signages.
Social media platforms form an important pillar for restaurant marketing, and the ideal way to get followers is through organic reach. With digital signages, restaurants can plug their social media channels and get followers quickly. The management can encourage its patrons to take photographs and upload them while tagging the restaurant. It's also an effective way to highlight the positive reviews customers leave behind. Imagine thanking a customer as they leave a review, in real-time.
Use a graphic or picture editor to remove all the text layers while retaining the background design and its elements in high resolution. Save that image as a JPEG or PNG. On the playlists page, click on vertical. Open an existing playlist or create a new one. Go to Add from templates and click on Basic. Choose Blank Template, click on Edit, and then Add Layer. Click on My Images, and upload the menu. Now click on Objects and add the text. Copy it to add menu headers. To add menu items, click on Add Layer and then Objects. There are pre-set menu designs you can choose from. When finished, click on Save.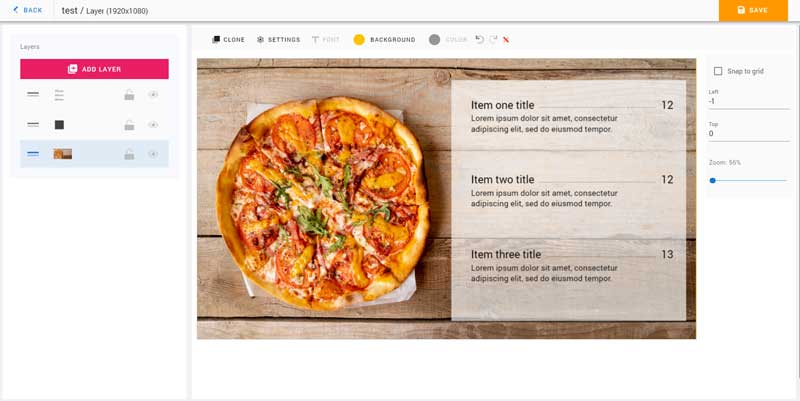 How to add Follow Us apps
Open the management console, click on the playlist, and click on the layer you want to add Follow Us to. Click on Follow Us and then choose the social media platform. Once you select the platform, enter the account name you want people to follow, and create a QR code. Click on Save and your social media Follow Us app is ready for your restaurant digital signage.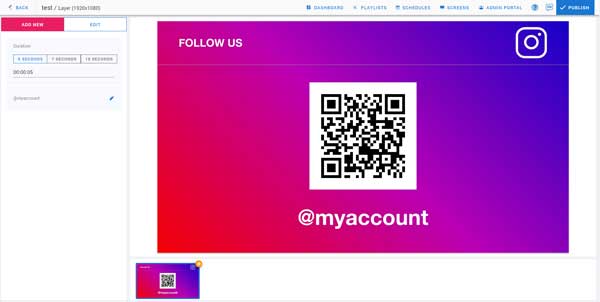 Start using Digital Signage today
Sign up today and get (forever free) digital signage, check our website https://easysignage.com.