Idea! That is what keeps you awake through those long nights. Ideas keep coming to your head, and you keep scribbling on papers about how to lay down the perfect plan for a startup. 2022 seems to be an exciting year that is ready to welcome startups digital signage with incredible ideas and potential business plans.
Brilliance is what defines your business idea that you might not have been thinking about working on since its inception. So hold on to that thought and research a little more to see if that idea has some potential in it to turn your business proposal into a successful one. If so, what are you waiting for?
Since the pandemic, many entrepreneurs have used digital platforms for starting their startups using platforms like Digital Signage. It is time for you to start penning down your thoughts for startups digital signage this year.
Not sure how to start? Well, here are the four excellent business ideas for techs to start their companies this year:
1. An Informational Channel For Hotel Industry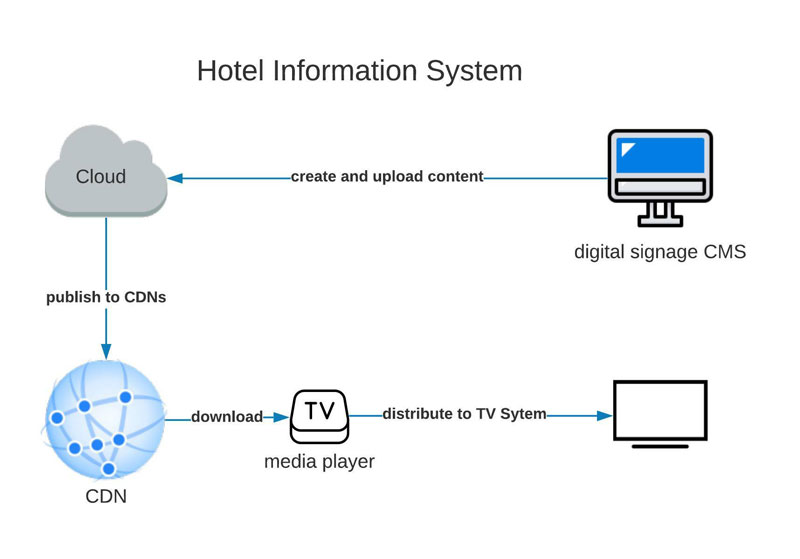 As unique as this may sound, it is one of the first exceptional startup ideas that made it here. Unlike the traditional e-commerce ideas, this one is an excellent concept that hasn't garnered enough attention yet.
Let's dive a little more into this concept.
The hotel industry needs to devise new and innovative ways to attract potential customers. You can find brilliant ways to include your startups digital signage ideas in this industry. One of the easiest ways is to produce content using the info channels.
How? The info channels can broadcast detailed information about the hotels and their trending offers to lure travelers. Also, it can exhibit in detail the various attractions of the place to motivate the souls to come and visit the area. Exciting news, attractive hotel offers, and more can be broadcasted on such channels.
How do you amplify your profits from such startups digital signage? Well, pitching should be on your priority list if you intend to grab the hotel industry's attention towards this unique concept. So start with pitching this idea to the hotels looking for more accessible means to market their services.
You can channel the startups digital signage while charging the hotels a fair and realistic fee for broadcasting the information on your channel. In addition to that, you can also get advertisements from other brands to sell them on your channel.
If it sounds too mainstream, let's talk about the technical background. You can use the easysignage.com software to lay down the foundation of your startups digital signage. Be creative enough to create appealing and attractive content and get ready to publish the media to a player.
The easiest way to set up the entire connection is through an HDMI connection. Connect the player to any encoder, and you will be set to stream the encoded content over the internet using CDN. In the hotels, they can configure their systems to stream the URL on their TV systems. Just make sure to control the internet connection you need to connect the player for seamless streaming.
2. Entertainment Channel For The Grooming Houses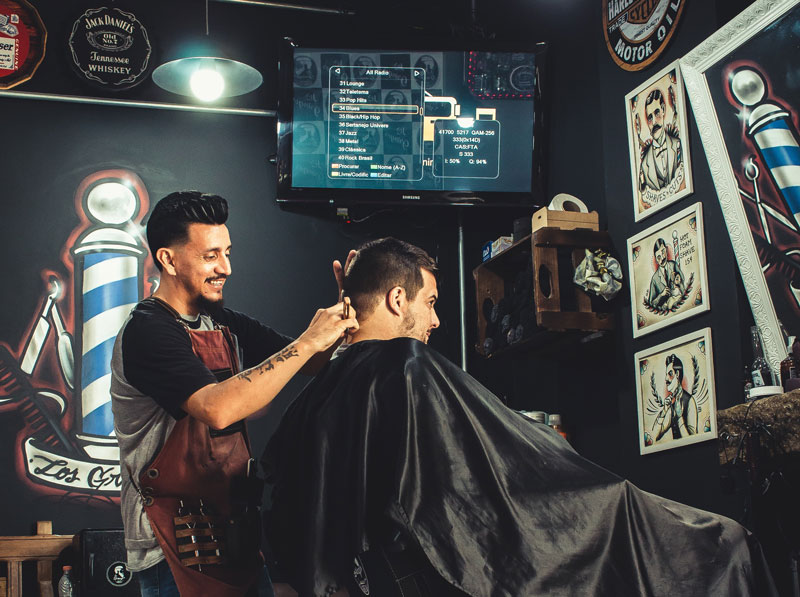 Another quirky yet innovative idea is starting an entertainment channel for the salon. No matter how expensive a brand is, you always have to wait for your favorite stylist in a salon. And during that moment, what exactly do you prefer to do? Either listen to music or check out some trendy magazines that the salon brands offer.
What if you actually could turn this boredom into one of the most exciting startups digital signage? Intrigued to know more? Well, starting an entertainment channel can always be a fascinating idea.
But not strictly for the showstoppers or broadcasting the top-rated movie content on the screen. Instead, the uniqueness lies in its foundation of promoting funny clips or styling tips from reputed names in the fashion world.
Technically, the barbershops can install these big screens that show creative content that is not limited to stereotypical movies and music shows. Instead, they can highlight the features and services of the salon or show something interesting and out of the box to engage the viewers. As a result, the salons never have to worry about keeping their customers waiting for their turns with such an exceptional idea.
It is one of the most profitable startups digital signage ideas that you can sell to the owners of the salons for yearly or monthly subscriptions. Be very cautious while you stream any content that might involve copyright issues.
If you are worried about the technicalities, do not panic at all. It is effortless to set it up as all you need here is a screen with an HDMI port. Then, just a proper internet connection, and you will be set to show your fantastic content to the onlookers.
3. Digital Billboarding On Cabs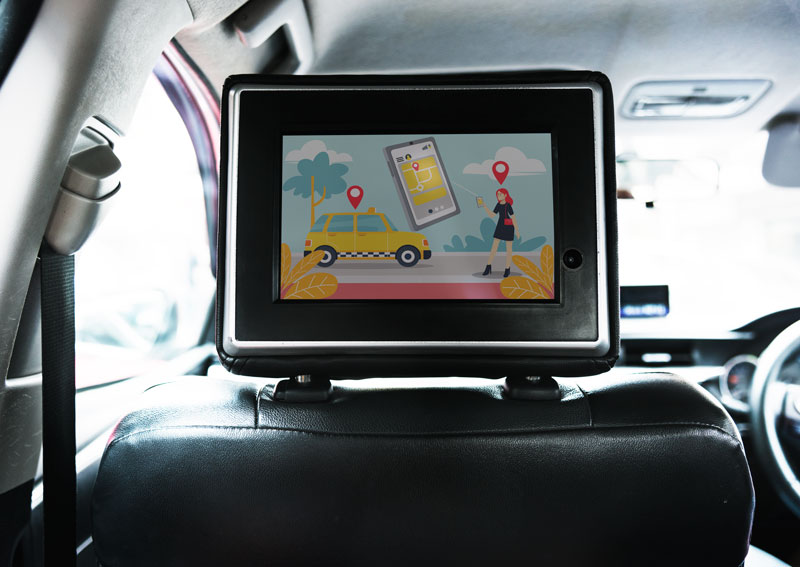 Yes, you might think those taxi advertisements are the typical startups digital signage ideas. But, of course, you have seen some offline advertisements and outdoor ones on the cabs pretty frequently.
But how often can you find cabs with attractive graphic content streaming throughout the day on its screens? Most probably none. Or maybe significantly less in number. 2022 can be the perfect year to monetize this unique idea and sell it to the big taxi brands in the market.
How does it work? Well, the cab needs to have two screens on the head holder's back of the front seats. The screens are the primary ways to showcase the content to the viewers and attract their attention while they enjoy a ride through the city.
These advertisements can be anything ranging from commercial ones to the most-discussed topics of the time. And you get to keep some percentage of the profit from the cab owners when they get to keep their customers entertained with your brilliant startups digital signage ideas.
How can you use Digital Signage to bring their idea to reality? It's pretty straightforward, given that Digital Signage is on a mission to help startup creators like you add some value to this world. So, here, you can get the EasySignage player that can be useful to download the content and let the cabs operate it 100% offline.
You now have to find the perfect seller that can offer you a head holder with an in-built Android screen for showing the advertisements to the audience. And once a day, the cab owner needs to connect to the internet to sync the data or content for streaming effortlessly. So, can this idea become one of the best startups digital signage for 2022?
4. Create A Marketplace For The Art Lovers, Maybe?
Another incredible idea that can help you become a successful entrepreneur is selling exquisite artwork pieces to art lovers. How? Maybe by creating an active digital marketplace where people can find extraordinary creativity from international legends beyond boundaries.
It can be one of the most profitable startups digital signage ideas to help the local artists get their visibility across the global platform using digital screens. You can help these artworks to reach millions of viewers and potential buyers using the digital platform across the globe. And these creative masterpieces will be available for sale both digitally as well as in physical forms.
Imagine you helping these creative souls garner potential attention from art lovers from all over the country with your exclusive startup idea? Amazing, isn't it?
Now imagine how much can you gain from such startups digital signage ideas? Or who can be your perfect partner to channel these ideas into reality? Well, the digital signage system can be your ideal partner for laying these incredible startup ideas.
How?
EasySignage is the perfect solution for incredibly thirsty and creative souls aiming for startups digital signage. We are a reputed name in the market, offering you cloud-based digital signage templates and attractive yet straightforward solutions to help create and send content to screens in no time.
We offer you highly user-friendly solutions at pocket-friendly prices in the market. In addition, we proudly offer you multiple features and a trusted platform to create your startups digital signage without any restrictions.
Why Choose EasySignage?
If you are still looking for more reasons for selecting EasySignage for your startup ideas, here are a few to consider:
Google Recommended
Yes, EasySignage is proudly the Google tech partner. We offer you easy, profitable tech solutions that can be effortlessly deployed on the Google Cloud platform with global availability. And we are available for any enterprise-level products like the ones discussed above.
Highly Affordable, Global Reach
Start researching about our services and we can assure you that we are offering you the lowest prices in the market. We always have been staying ahead of the game with our impeccable services and competitive market prices. Along with that, we also offer you quicker solutions with the availability of the Google Cloud Platform. So, you see, we help you anywhere, any time.
Offering Exclusive Domains
Another specialty that we would love to highlight here is that we help our clients get their personalized domains. Our motto here is to help you modify your ideas into reality. So, we help you get your domains to build brand authority in the market.
Finally,
We will never be claiming to be one of the best in the market. Instead, we urge you to test our solutions and check out our platform to know how seamless and user-friendly we are. And with that, we would love to assist you with any questions. Got queries to ask? No shying away from us as we are 24*7 available for you. Contact us today!