Dynamic digital food menus are essential in the modern restaurants industry. In fact, it is quite a setback when we visit a well-known eatery and can see no digital signage there. Even when we don't realize it sometimes, a digital food menu set up on the wall can ease many of our small tasks as customers wherever we go.
If you own a restaurant and still haven't started working on setting up your own dynamic digital food menu, you're missing the boat big time. We'd suggest you start working on getting one for your coffee shop, restaurant, or whatever you own right away. In case you're wondering about how to get one for free, this guide will help you.
There are several benefits of displaying a dynamic food menu at your eatery. These benefits often make a significant impact on your customers and their experience. Not having accessible signage at your eatery might lead to you losing visitors to your competitors' restaurants, who are providing such benefits. Here are some reasons that make these digital food menus so essential and beneficial in today's restaurants:
Dynamic food menus are an easy way to attract the customers towards something that they wouldn't otherwise try on your menu. By using colorful pictures and descriptive captions with your new menu additions, you can subtly encourage your customers to spend their money on your new offerings.
If your restaurant uses an ordering system like McDonald's, for example, a dynamic signboard is as much a blessing for you as it is for your customers. Customers find choosing their menu items from dynamic signage easier, compared to when they have to ask the person standing at the order counter. This saves their time as well as yours, making your business operations faster and easier.
It is easier for restaurants to attract more people towards their upcoming campaigns and promotional offers using digital signage.
How To Use A Free Ready-Made Template?
Creating your own personalized restaurant dynamic digital food menu is very easy. There are a number of online resources providing free templates that you can use to create your signage. You can choose and work with the one that goes best with your restaurant's theme. Here are the simple steps to follow to use a ready-made template for your dynamic digital food menu:
Go to easysignage.com
Create a playlist and click on it so that you can begin with adding content into that playlist
You'll see an "Add from template" option, click it, and you'll be taken to a number of our free template categories.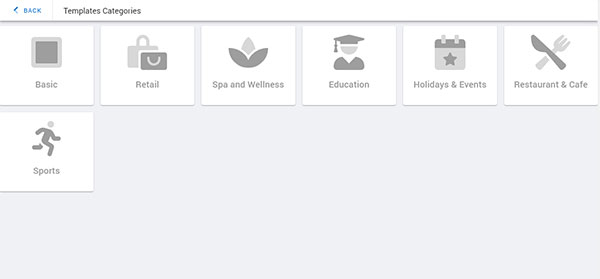 Click on the category that suits your purpose and choose one specific design that you like best.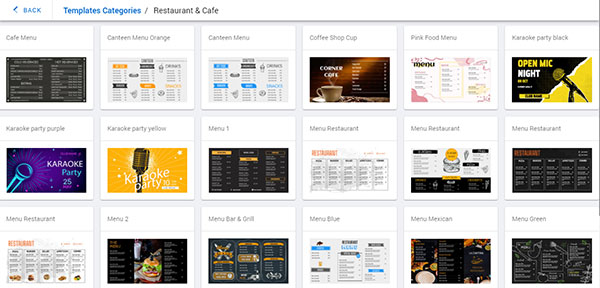 Let the template load, then click on the "Edit Template" option on the screen's top-left corner.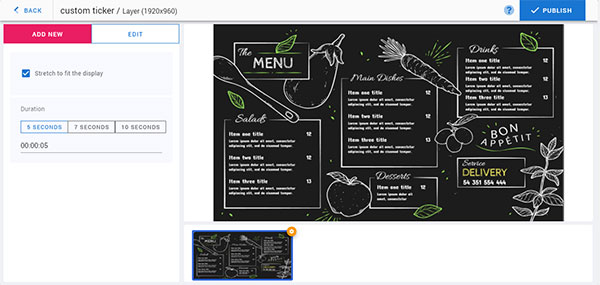 The editing option allows you to make your desired changes to the selected template and format it as you need.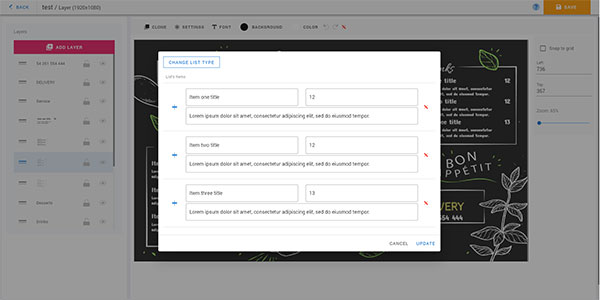 After you're done editing, save your template and wait for the program to complete the download. Now your design is ready to be used.
Conclusion
Working with free templates can definitely be fun if you use your creative sense. Using our free templates, you can create exceptional dynamic food menus to display at your restaurants, which will help attract more customers to your establishment.
References
Try Out EasySignage https://manage.easysignage.com/#/dashboard
How to Add Templates? https://help.easysignage.com/templates/add_templates./
How to use digital dignage online template editor https://help.easysignage.com/templates/online_editor/
Sign up today and your 1st screen will be free forever, check our website https://easysignage.com.